There's been a lot of chatter lately about Willow Creek repenting, a new book/initiative called Reveal and people complaining about the church.
They're all somewhat related. To summarize, Willow Creek came to the conclusion they're doing a terrible job at reaching people who are more mature in their faith. Willow Creek's Greg Hawkins illustrates this below.
He classifies people at the church in order of maturity (except #5).
Pre-salvation. Exploring their faith.
Post-salvation. Growing in their faith.
Close in their relationship with Jesus (regular devotional time).
Centered in their relationship (everything revolves around Jesus).
Stalled. People who are saved, but are just cruisin' along.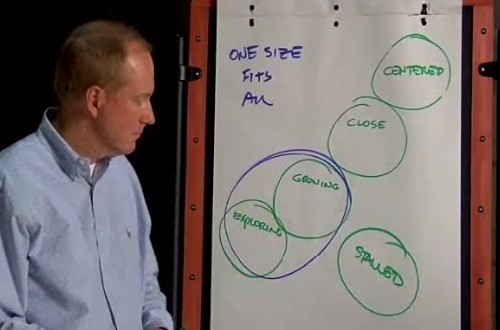 The blue circle represents the people Willow Creek is doing a great job at reaching. Not so much for everyone else.
Probably one of the major complains from this "un-reached" group is that the church isn't feeding them. According to Willow Creek, this is a true statement.
Reveal is an initiative to change that. To do a better job at reaching these people by teaching them to feed themselves. Bill Hybels hints at "personal spiritual growth plans" (think spiritual trainer, not personal trainer) to help accomplish this.
I probably wouldn't normally post anything about this, but this topic happens to also relate to a conversation I had a couple weeks ago. Somebody asked me what I thought the church was weak at and in my naivety responded with "not doing a good job at discipling our members."
Sounds a lot like the problem Willow Creek is having.
Perhaps, but the conclusion of our conversation was . . . what is the church responsible for?
Yes, our church may not be doing so well discipling the "close and centered" Christian, but is it our responsibility?
What is the Biblical responsibility of the church?
It seems Reveal and Willow Creek are on the right track. They've taken their findings and instead of doing a better job at "providing food" to the close, centered, and stalled Christian, they are teaching people how to feed themselves.
They are addressing the responsibility of the church, not just a weakness.
A weakness is not worth fixing if it's not a responsibility.
I guess you could say that's what I've learned the past couple of weeks.